ABOUT US
Established in 1982, Modern Asia Environmental Holdings (MAEH) is a member of Dowa Eco-System Co., Ltd and is a trusted provider of premier industrial waste management services in Singapore. We deliver cost-effective solutions that comply with both local and international standards. MAEH specialises in the collection of chemical and hazardous, as well as non-hazardous waste, waste water treatment, industrial cleaning services, recycling services, incineration of waste, and the sales of solvents and chemicals. The safety of our workers and the environment is a top priority at MAEH. As such, we have implemented the Hazardous Chemicals Safety Audit System and are proud to be awarded with the bizSAFE Star certificate. MAEH's commitment to service excellence and environmental sustainability is evident through our status as the first waste management company in the region to receive the ISO 14001 Certification in 1999. 
You may download our factsheet here.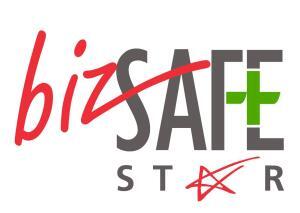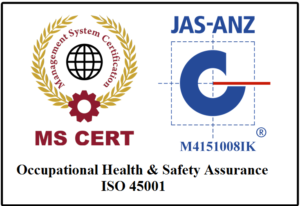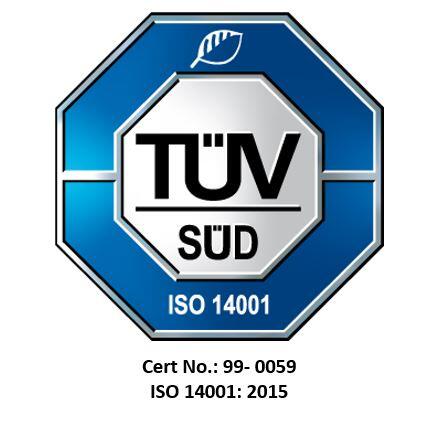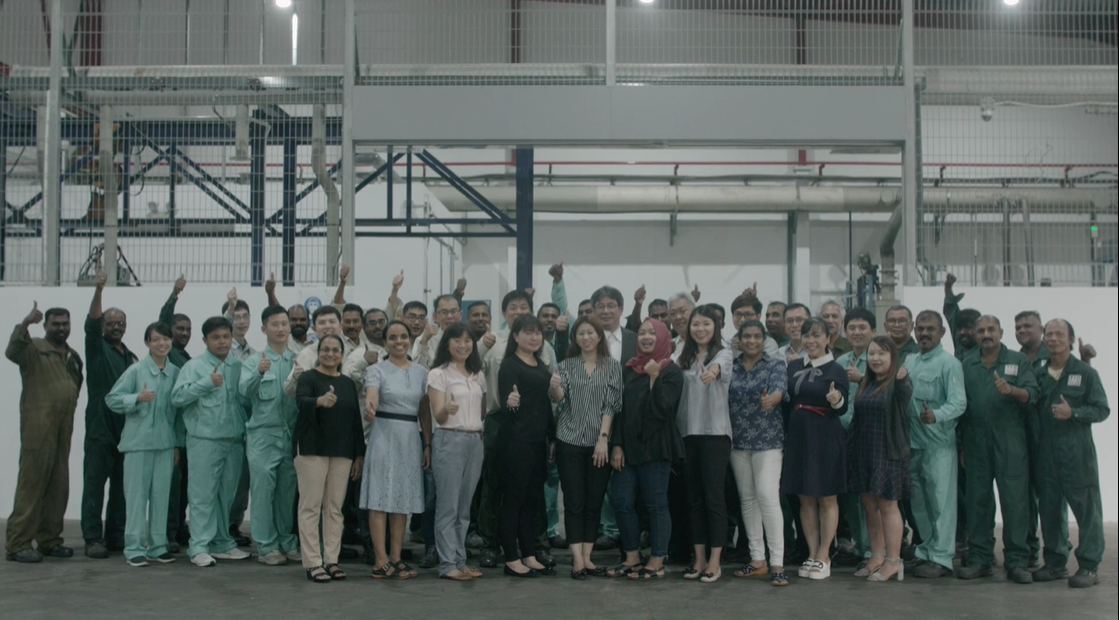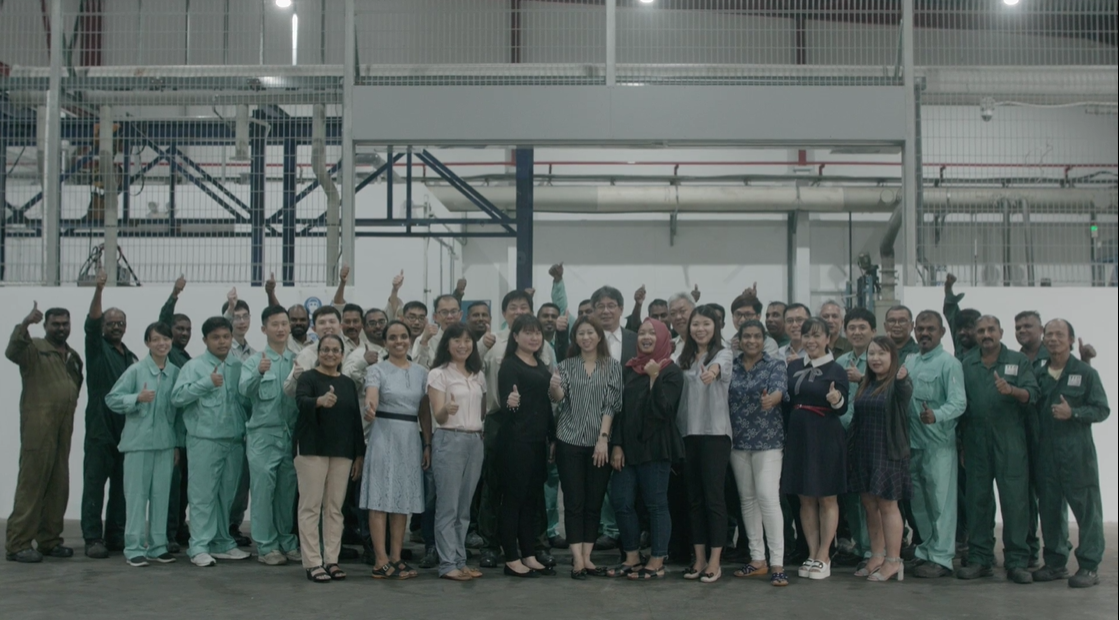 PRESIDENT'S MESSAGE
We are members of DOWA group. DOWA is a Japanese company, founded in 1884.  DOWA is a global leading corporation in the Material and Environmental field.  We have developed various businesses in Singapore since 1980's.
In 2019, the DOWA group consolidated various Environmental Companies into one, namely Toxic Industrial Waste Management Company, Technochem Environmental Complex,  Precious Metal Recycling Company,  DOWA Eco-System Singapore, and the Shareholder of Indonesian Landfill, Modern Asia Environmental Holdings.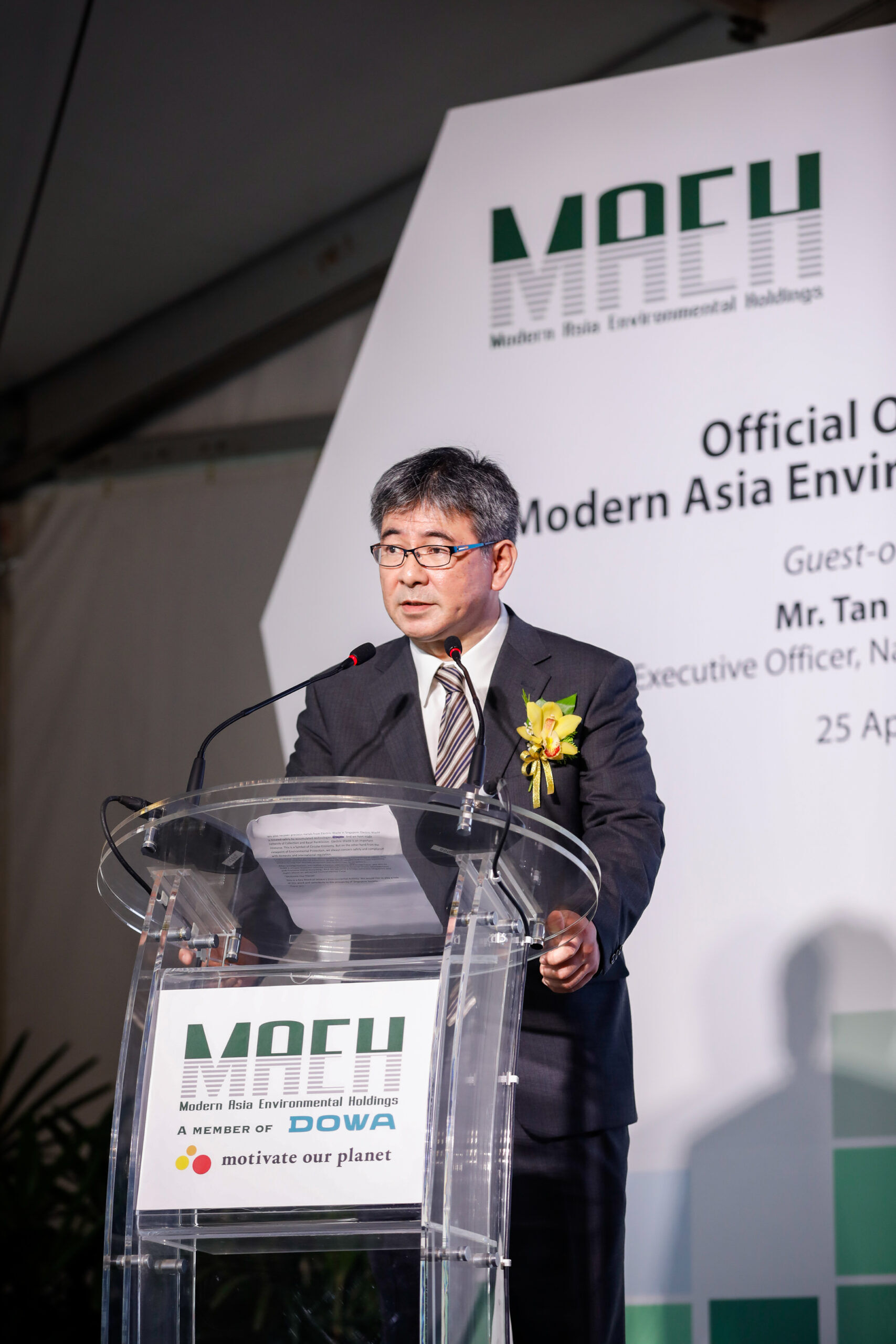 These companies were amalgamated and Modern Asia Environmental Holdings (MAEH) was born.
To date, we have accumulated immense success for Environmental Technologies and Systems in Singapore. For example, we built the Vertical Stoker as an incinerator for the treatment of Toxic Industrial Waste in 2017. This Incinerator omits the use of fossil fuels during its operation which also significantly contributes to the Low Carbon Emission initiative.
Apart from Toxic & Biohazard Waste Management, we also recover precious metals from Electric-Waste. The safety of Electric-Waste Management is part of the accumulated technologies from our headquarters in Japan.  With Basel Permission, we had built a network between Singapore, Japan, Thailand, and Indonesia to handle Electric-Waste.  Electric-Waste is an important resource and Recycling Electric-Waste is a Symbol of Circular Economy. Therefore, in view of the Environmental Protection Policy, the safety and compliance of Electric Waste handling are of utmost importance at MAEH.
The life of Landfill and Circular Economy have always been an environmental concern. Hence, DOWA group has developed the Ash Smelting Technology that has the ability to contribute to the life of landfills. Not only will this create more land but more importantly, creating lives for our future generations ahead.
With efficacy in our management, we aim to grow this unique business model by combining Toxic Industrial Waste Management and Precious Metal Recycling solutions.  At MAEH, we work forward to deliver Waste Management Solutions for everyone that help sustain, grow and build a better future for many generations ahead.

As part of our responsibility to the environment, MAEH has put in place a set of regulations and guidelines to help us achieve our goal of creating a cleaner and greener home while maintaining top service standards:
Adhering to local and international environmental standards
Utilizing state-of-the-art, cost-effective technology and equipment
Regular upgrading of MAEH's facilities and infrastructure
Understand, support and be a responsible member of the local community
Recruiting highly-skilled, experienced, and dedicated professionals who respect the environment, community, and customers
Advising clients on how to minimize their environmental risks and manage any future liabilities
Through the combined efforts of our skilled employees, avant-garde technology, and respect for our green home, we work together with our partners and clients towards returning the environment to the people of Singapore.
ENVIRONMENTAL, HEALTH & SAFETY POLICY
We at MAEH, while carrying out our Industrial Chemical Waste Management and Manufacturing of Chemicals Businesses, are committed to the prevention of pollution, injury, and ill-health to protect the Environment, Health and Safety (EHS) of our staff and interested parties who may be affected by our business activities, products, and services.
We shall, in line with this commitment, establish and maintain an EHS management system to actively manage EHS as an integral part of our business, operations, and practices.
We shall commit to comply with EHS legal and other requirements that are applicable to our business.
We will constantly review our business processes to continually improve our health and safety performance and to further reduce their impact on the environment.
We will maintain an environmental friendly, safe and healthy workplace for our employees and provide appropriate information and training to increase their EHS awareness.
We will communicate this policy to all persons working for or on behalf of the company and encourage them to conduct their activities in a safe and environmentally responsive manner.